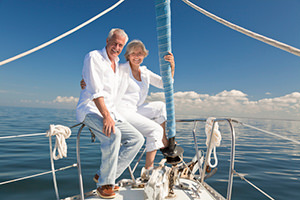 The Baby Boomers will create an economic drag in retirement
There have been endless reports on the economic drag that will be created by Baby Boomers when you enter retirement. In fact, Adecco USA recently projected that this gap will create 31 million skill positions left open in the next four years, which is expected to impact 74% of companies in the U.S.
The downside of the report
Baby Boomers have dominated the U.S. economy for decades. According to the McKinsey Global Institute, 79 million people aged between 50 to 65 have generated historic levels of wealth and income, and driven strong economic growth as a result. The downside the report found though was that you have also recorded historic debt totals and expenditures. In fact, the report's findings showed that 66% of you are not financially prepared for retirement to maintain your current lifestyles.
As a result, your retirement years will have a significant impact on the economy. As you will leave your working years and spend less into the economy as you age, real GDP growth will slow down in the U.S. The McKinsey report projected that this growth will drop to a 2.4% average in the next 30 years, down from the 3.2% average the GDP enjoyed from 1965 to the present.
In 2011, the Federal Bank of San Francisco published a report that had similar findings in that it projected your retirement will mean you will begin to sell off your assets to fund your costs of living. Naturally, as you are spending and investing less into the economy and saving more, there will be slower economic growth prospects overall. Among these assets to be sold are your homes.
For many you, your homes are your most substantial assets. The buying power you have had on the home market has driven up prices. But liquidating these assets could mean a depression of housing prices for the near future. As you will spend less on homes, you will begin to tap into your home equity, which may drive up your debt total as well.Even a small increase in baby boomer working years will have a big impact.
One possible solution
A remedy for the expected drag on the U.S. economy will be that you work later into your 60s and 70s. McKinsey's research showed that over 85% of you will work later than the traditional retirement age in your early 60s. If the current median retirement age increases from age 62.6 to over 64%, that will represent a significant drop in your households that are not prepared for retirement. In fact, it will decrease that number from roughly 62% to 31%. That will be a short-term boost until millennials can increase your buying power in relation to you to lessen the economic impact.
So what does this mean for you?
What you decide to do in order to improve your preparation for retirement will vary on a case-by-case basis.
At Van Leeuwen & Company, we will work with you to help you prepare when the time if right for you.  We will work with you to understand your financial goals and unique circumstances as you transition to this and the next phase of your life.
The opinions voiced in this material are for general information only and are not intended to provide specific advice or recommendations for any individual. All performance referenced is historical and is no guarantee of future results. All indices are unmanaged and may not be invested into directly. The economic forecasts set forth may not develop as predicted. Brafton and LPL
[/fusion_text][/fusion_builder_column][/fusion_builder_row][/fusion_builder_container]