If you're looking at buying or selling a home right now, what can you expect in this much-heralded hot residential real estate market?
Last week, award-winning real estate expert and RE/MAX Hall of Fame realtor Smita Shah was interviewed by former TV news correspondent Diana Bishop for Van Leeuwen and Company's client-only "Assets and Aspirations" webinar.
The independent insider's perspective and unexpected insights that Smita provided, buoyed by her four decades of experience helping people buy and sell homes, compelled me to share some of her most interesting stories and tips to help you navigate today's market.
Let's take a home that Smita helped a buyer purchase in this heated market. A stately, 21-year-old home, complete with five bedrooms and 10 minutes from the Princeton train station, recently went on the market for $999,000. With multiple offers, it immediately sold for $1.12 million. So why did the offer from the buyer succeed where other buyers-to-be failed?
"It wasn't just price," said Smita.
In this seller's market, where there's a strong supply and demand imbalance, the winning offer - like many others she's seen - consisted of waiving multiple contingencies to best accommodate the seller's needs.
First, the buyer paid all cash; no mortgage or other financing was necessary. For the seller, this nearly eliminated the risk that the deal wouldn't close for financial reasons or would be held up by them, making the sale easier and faster.
The all-cash purchase also allowed the buyer to provide flexibility to the seller about their moving out date. However, if the buyer had a mortgage with rates locked in for 60 days, that could have had a knock-on negative impact on the seller's plans. Specifically, a mortgage would have meant the seller would have to be out of their residence on a fixed, sooner-rather-than-later date. This might not have suited the seller if they wanted more time in the residence. All cash granted more leeway.
The last contingency waived was no home inspection. Again, this was to the seller's benefit since they wouldn't have to deal with the hassle and the haggling over any repairs that an inspection might throw up.
If waiving these contingencies seems surprising, you aren't wrong. Five years ago, Smita said they were "unheard of." Yet today, waiving contingencies is increasingly common in certain pockets of the country due to buyers competing against multiple offers.
Key factors affecting the real estate market
Unsurprisingly, all of this competition has caused the price of residential real estate to skyrocket. Home prices are up 23% since the onset of the pandemic.
Let's take a look at what's driving these home prices:
Low interest rates
These are currently the lowest interest rates in history. For young couples who haven't yet bought, Smita says that if they purchase a home with a mortgage, the low interest rates "they are paying are almost the same as rent."
This is just one example of how the low cost to borrow money has incentivized more people to buy. Another scenario is the family who might want more space, especially as more people work from home.
"Interest rates have been so low that some owners who had a smaller, modest home were able to sell that and go into larger homes," said Smita. "This helped create this [heated] market because the owners could afford to sell and buy a larger home, which could facilitate them in this Covid-19 environment."
Low supply
"Please, please, how can I get into the home?" This is what a realtor recently said to Smita over the phone when he called her about a home she had not officially listed yet. The realtor said it was exactly what his buyer was looking for. Within a day, the buyer viewed it and closed on it.
The above situation is not as uncommon as it once was for those houses in coveted locations and in the high-demand $500,000- $1 million range. What's driving this frenzy is a severe shortage of homes. With tight inventory and not enough new construction, numerous prospective buyers can find themselves fighting over a few properties.
Housing supply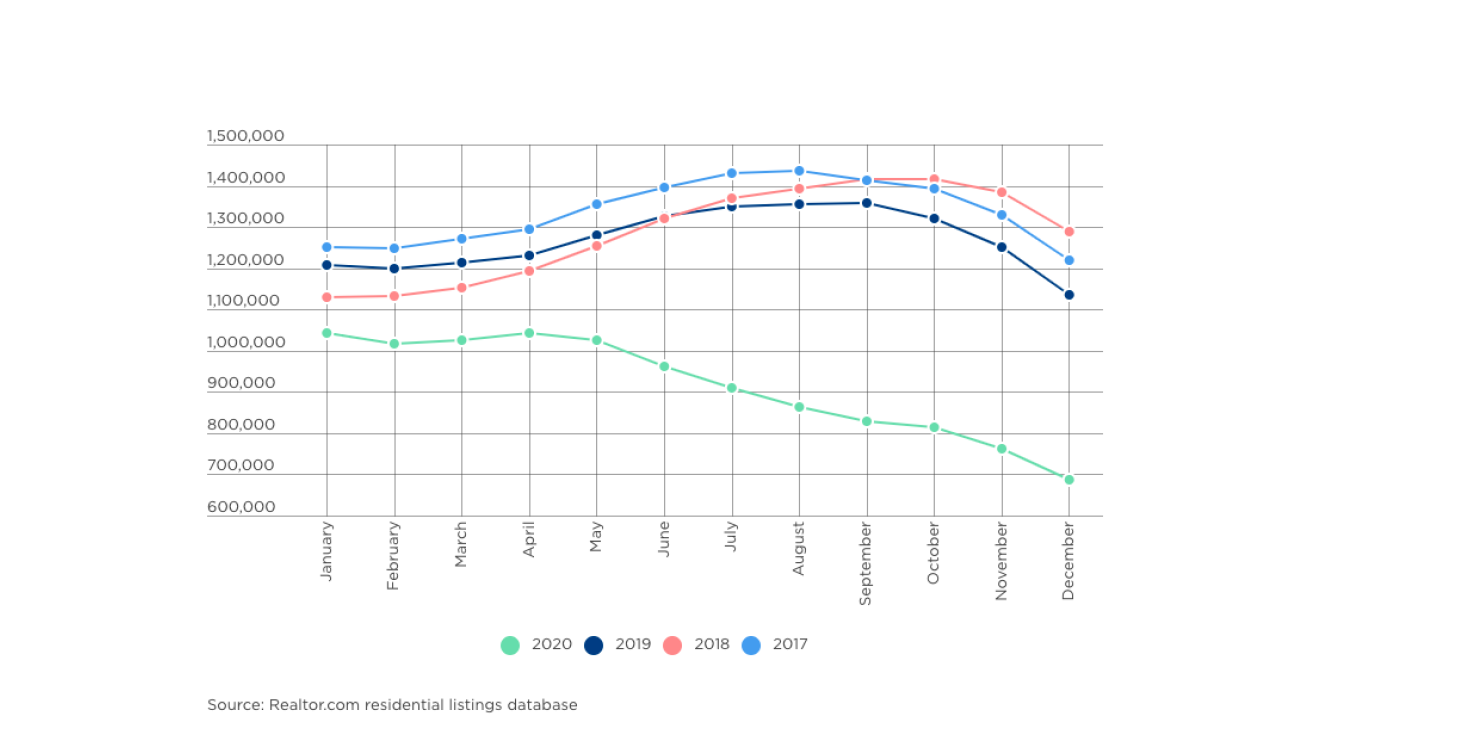 "Builders can't build fast enough," said Smita. In the North New Jersey area where she works, she says, "There's no new construction that will deliver any properties in the next five years."
One factor hampering this badly-needed new construction is a lack of certain materials. Smita said that a recent project she's been working on with a builder has stalled because he can't get the lumber.
When he does eventually get the lumber, the cost will be higher. The price of building materials has increased by more than 19 percent over the past 12 months, according to the Bureau of Labor Statistics September 2021 Producer Price Index report. The shortage of contractors and skilled construction workers is another added wrinkle.
The upshot is the new homes that Smita and many others hoped would be up for sale are not yet built and will cost more.
Stock market gains
Many investors have made money in the stock market over the last several years. And many of them have children and grandchildren who are eager to buy a first home. As such, some investors have used their portfolio gains to help family members get on the first rung of the property ladder. Or they have bought property as an investment or another home, further heating the market.
Increased savings
Many people have not just made money thanks to the stock market, but they have saved it too. Throughout Covid-19, household expenses have declined as people didn't take vacations, go out to eat or attend events with the same frequency. This has meant they have been able to accumulate more cash to put towards buying real estate.
The desire for more space
Smita believes that low interest rates and low supply are the key drivers of today's residential real estate market, but the impacts of Covid-19 are a contributor as well. She has seen an uptick in city dwellers moving out to the suburbs to gain the space they need for a home office and for their children to study. Although New York City has bounced back, she says that fear of the virus is still on people's minds. They are looking to be "safe and healthy and not overcrowded."
How to make your housing offer stand out
"The power of no contingency and cash is driving the winner right now," said Smita about what offers are most likely to be accepted.
Although waiving certain contingencies, such as home inspections, are possible for many buyers, all-cash purchases are not realistic for most. In that situation, the next best thing is to have your financing ready to go. Specifically, a pre-approved mortgage. This proves to the seller that you can secure the loan and provides assurances to them that the deal is unlikely to not close at the last minute for financing reasons.
To further strengthen your offer and possibly place you ahead, Smita recommends proposing a down payment above 20 percent. Long gone are the days of down payments in the ballpark of five to 10 percent.
She often advises young buyers who might lose out on a desired property because they don't have a large enough down payment to see if any family members might assist.
"The stock market and interest rates are making parents feel more generous to children," said Smita. "There was a time that was not possible."
In my own experience, clients enjoy being able to help enable their children or grandchildren to own their piece of the American dream. There's an element of pride and happiness they receive in doing so. As I say, you can't touch a stock, but you can cruise up your child's driveway.
Smita's tips and final takeaways
Should I wait to buy?
People frequently tell Smita: "I want to wait until prices come down because they're too high right now." But is waiting a good strategy?
Smita does not think so. She said that given interest rates might go up; it will take time for the supply of homes to increase significantly; and building costs keep rising, which are passed along to buyers, she does not think the price of purchasing residential property will decrease. Hence, she recommends not waiting to buy.
The old rules still apply
Just because it's currently a seller's market doesn't mean that you, as a buyer, should forget the fundamentals of:
Location
Condition
Price
A litmus test for investing in real estate
Also, if you are buying a residential property as a long-term investment, Smita recommends not leveraging yourself.
"I don't advise investors to buy unless they can sustain themselves for a 90-day, no-rent situation. Most investors are cash buyers," she said.
Selling and staging
"It can make a $100,000 price difference if you stage," said Smita about a million-dollar listing.
If you don't stage, she suggests removing your personal footprint so potential buyers can picture themselves in your home.
Choosing a realtor
She recommends working with a real estate agent who has extensive local knowledge of your market of interest to guide you.
"To know a local market, you need to talk to a local expert who can help you buy or sell," said Smita. "The expert needs to be experienced, confident and creative."
If you're a buyer, these traits will increase the likelihood that the agent will know how to put together a winning offer, including a reasonable offer. If you're a seller, the agent will likely know how to price properly and screen appropriately.
When selecting an agent, she suggests asking them about their knowledge and experience. Personally, Smita enjoys educating buyers and sellers about the ins and outs of the process so that might also be something to inquire about if that is of interest to you. She also believes in following your intuition when choosing a realtor.
Content in this material is for general information only and not intended to provide
specific advice or recommendations for any individual. All performance referenced is historical and is no guarantee of future results. Thank you